"Please." I say wistfully to the empty room.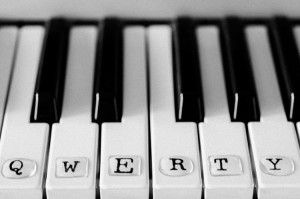 "Make this computer keyboard a piano."
 I'm wishing the QWERTY characters could be struck in multiples and instead of jamming in the electronic buffer, produce a melodic chord. I try anyways – just in case the planets are in alignment. The result isn't magical but randomly appropriate.  jhurgrrrrrrrrrr. Grrrrr is the growl of denial that begins to vibrate deep inside me.
I am still infused and brimming with music. The poetic side of my brain is choked, wanting to exhale but I am not a musician.
At least for a moment it portends a hidden talent. I feel the power in my fingertips as my entire body rises in anticipation of the notes being struck.  It would be exhilarating to translate these thoughts into music.
I am even tapping these words with a rhythm, with importance. Only the cat watches me with one lazy eye. To her it's little more than white noise, as noteworthy as a dripping tap.
There is no melody, no chorus, and no rhythm. Only my words designed to populate a vision or an idea in the mind of a reader.
I took piano lessons when I was about ten years old. Three different instructors were hired over a three year period before abandoning the effort. I learned how to read music. I could transpose the black marks to the ivory keys but I was mechanical and unable to move beyond the notes on the page. I had no ability to play by ear and when I tried to create new sounds and always ended up with clunky chord sequences. I still remember my favorite combination, D-E-A-D.  And Dead is where my musical aspirations ended.
Instead of giving up I picked up a pair of headphones (Walkman personal audio devices were still a few years away) and began a lifetime of consuming music.
I've written before of my penchant for 'power naps'. This afternoon was no exception. Forty blissful minutes before that same cat head-butted me back into the waning afternoon. Naps are a form of meditation. I wake up refreshed and receptive. It's a fertile time to write or as I would discover, connect to an artistic muse.
I've recently become enamored with the show Classic Albums made accessible through on-line streaming from NetFlix. The show's simple promise is to examine a classic album in detail. They include historical footage which establishes the society from which the music was created. A dialogue with the musicians, the engineers, and the producers stays true to what created the music. The most fascinating aspect of the show is when the artists sit at a mixing board and bring up the original multi-track recordings and break the song down.
Musicians make a staggering number of choices. When we listen it seems effortless because we don't know the song in any other way. We learn the song through repetition and come to believe that it's just the way it was supposed to be.  A similar thing happens in books, the reader doesn't see a choice having been made, it's just what the character would do. The writer and musician become invisible.
I've watched episodes on The Band, U2, and Fleetwood Mac. Tonight's was Elton John's Goodbye Yellow Brick Road.  This was an album I had owned when it was released on vinyl. While his flamboyant style was in the making, it was yet to be a distraction and his focus was about the music.
Arguably this is one of the great double record sets (that means two LP (long play) discs for the younger readers) of all times. I had worn through the grooves of my vinyl copy and as a result of those hundreds of repetitions; I know the minute details of every track. I was excited to hear it again for the first time as the artists did.
And each day I learn just a little bit more
I don't know why but I do know what for If we're all going somewhere let's get there soon
Oh this song's got no title just words and a tune
The episode didn't disappoint. My routine after watching these episodes is to consume the album from start to finish steeped with new insight. This has to be done with quality headphones in and environment without distractions. An empty house and a fed cat made this possible.
A brief aside. The key word here is an 'album' or a collection of music. Today's music consumers are driven by the hits or singles. In my day I had a small collection of '45s' (single song on each side, tiny vinyl discs) but these were almost always stepping stones to save up enough money to buy the full album. I am still more interested in hearing the complete set of work. I've never responded well to Greatest Hits packages. I think this is part of what will make me successful as a writer. I am interested in the context within a collection of work.
Tune me in to the wild side of life I'm an innocent young child sharp as a knife Take me to the garrets where the artists have died Show me the courtrooms where the judges have lied
The asanas (postures) for listening intently to music can include anything from lying in a hammock, on the bed, on the floor, to sitting bodhisattva style. It can also include an activity.
 In the spirit of the Buddhist teaching: "When you chop wood and carry water, just chop wood and carry water," I also like to mindfully complete tasks while listening to the music. On this evening I would create my dinner. A friend had given me a farm box of organic produce that included a loaf of sprouted Khorasan wheat bread. Tonight's menu would be built around two extraordinary sandwiches.
As the album continued to play I sliced yellow and red bell peppers into wide strips, peeled garlic cloves before tossing everything in a stainless steel mixing bowl with ground black pepper and Queen Creek Olive Mill Extra virgin olive oil. Then exposed to the heat of a Phoenix afternoon I stood at the barbecue and laid out the peppers and garlic in a wire basket and roasted them until soft and slightly chard. The sound cancelling headphones removed the whine of air conditioners from houses stacked next to each other in the confines of this suburban neighborhood.
Let me drink deeply from the water and the wine Light coloured candles in dark dreary mines Look in the mirror and stare at myself And wonder if that's really me on the shelf
The sandwich was finished with Maya Farms micro basil, micro greens, and organic leaf lettuce. It proved to be delicious. The second sandwich was a variation on a classic. Thin slices of plump purple and green Sunizona heirloom tomatoes were combined with strips of bacon.  The bread was lightly toasted and brushed with a thin veneer of mayonnaise before a finish of leaf lettuce, a pinch of micro greens, micro basil and ground pepper. A BLT worthy of savoring.
Slow food, slowly prepared while immersed in the intimacy of well-known but re-discovered music. It was a meditation of music and the yoga of food. The joining of two things I love.
Take me down alleys where the murders are done In a vast high powered rocket to the core of the sun Want to read books in the studies of men Born on the breeze and die on the wind
The meal and clean up concluded with the end of the album and I removed the headphones to the contrast of a silent house but still a bulging musical meniscus, about to tear. It has been difficult to sit as these paragraphs dot the screen. I eventually settle with gratitude to the artists who make my favorite music and inspire me to write.
If I was an artist who paints with his eyes I'd study my subject and silently cry Cry for my darkness to come down on me For confusion to carry on turning the wheel
Excerpt from
This Song Has No Title
From Goodbye Yellow Brick Road
Music: Elton John Lyrics: Bernie Taupin