My father had a fall yesterday.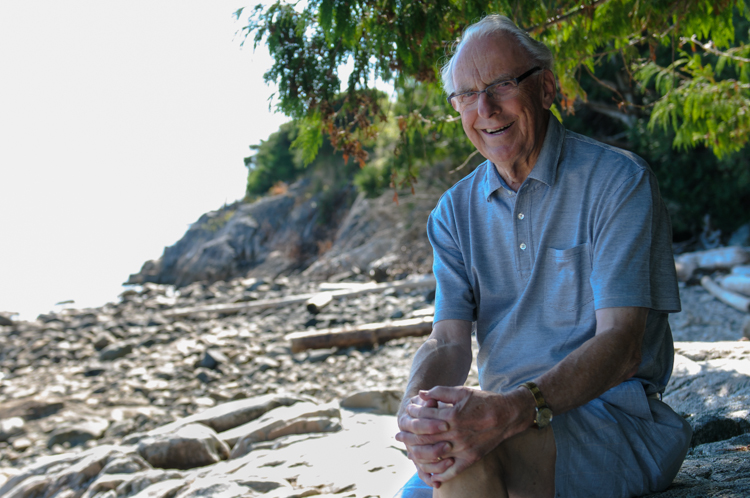 Thankfully, no broken bones but a frightening moment for all of us.
In particular for my father, for even as people came to his aid, he must have felt isolated and alone. I wasn't there, but I can imagine somewhere beyond the pain of the bruises and the unsettling blood from the shallow cut on his forehead, that he was trying to reconcile his self-image of eighty five years of independence.
For the family, a chain of phone calls, "everything will be okay" but in low tones the discussion inevitably turns to the decision that he may not be able to go for walks on his own anymore.
I recall a recent dream where I awoke with a vivid image of a room in my parent's home, accompanied by a feeling of intense emptiness. Both were linked to the progression of my father's Parkinson's disease.
I don't often remember my dreams but this one lingered beyond the blinking eyelids and the slow-to-burn muscles required to get out of bed.
In the dream, I was standing in my father's home office in West Vancouver. Home office being the modern term.  When growing up this room was always described as the study.
For a dream, all seems pretty normal. Just across the threshold, my footfalls are absorbed in the tight woven grey carpet, my eye scans the right-hand wall where there's a filing cabinet topped by a desktop copier.  An oil portrait of my father is one of the two pieces of artwork. There's something not quite right about the mouth or the shape of the jaw.
A wall mounted Antique pendulum clock that had been his fathers, is silent and stopped at 2:10.
At the far end of the room in front of the window is the big solid desk that has been with him in almost every house that we ever lived. I shake my head; it shouldn't be there as my brother now has it. For the sake of the dream, I accept that it belongs instead of the much thinner, simpler desk that replaced it. In front of the desk, purposely centered, is an old style wooden office chair. The hardwood seat with no cushion leans slightly to the left. I don't need to test it, but I know that the aged spring is coiled and ready to screech and groan when engaged with the weight of anyone committing to the desk.
On the top of the desk, also centered but a couple of centimeters from the edge, there's a blotter pad holder with an ivory paper insert. His computer sits closed to the back of the work area. A mock Egyptian urn, matte black with white stenciling acts as a penholder. My brother Bryan brought it back from a Mediterranean school cruise forty years ago. I remember thinking how fragile it was to have come out of a suitcase. It survived the upgrade to the new desk.
A torn sheet of newsprint is folded with a yellow sticky note, the writing, fro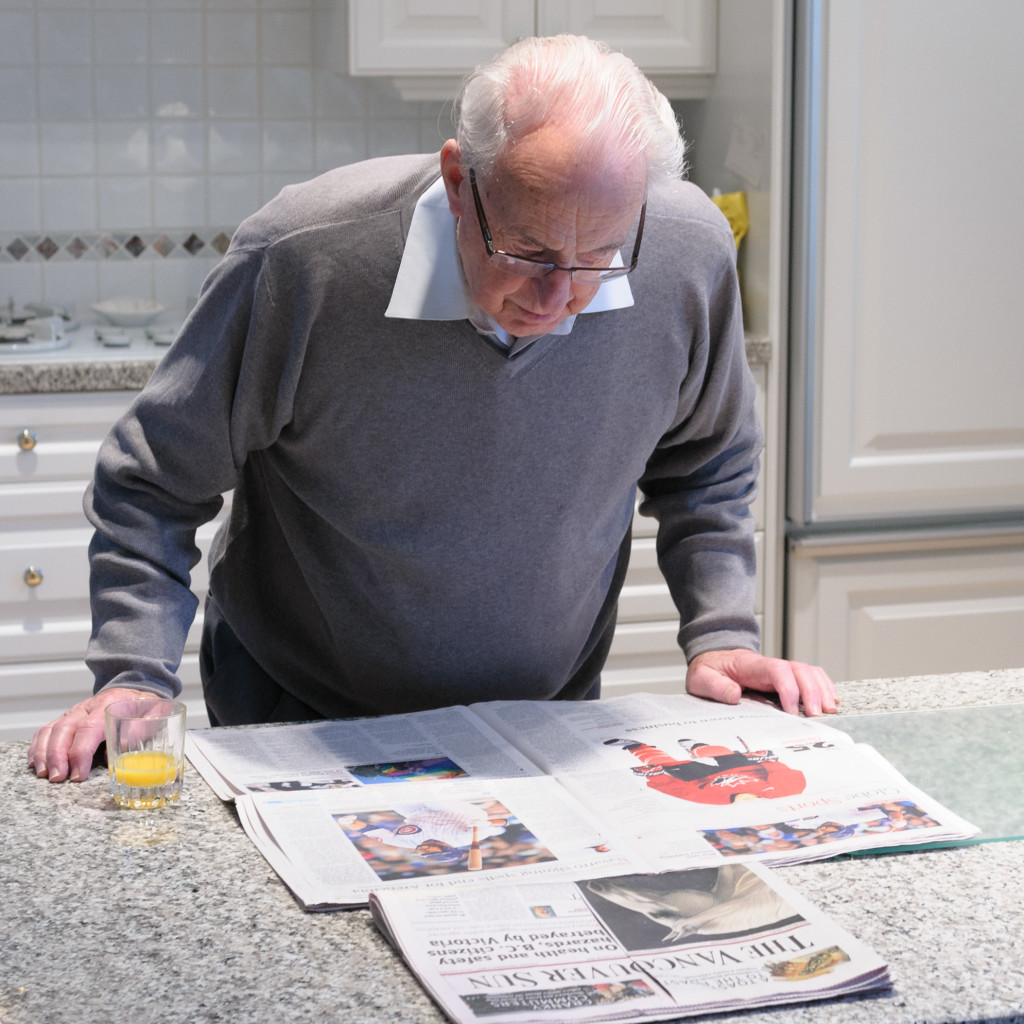 m a thin red pen, lists a name. Not legible from this distance. Newspapers. There were always the daily newspapers.
To the left of his desk in the corner his Canon printer sits on a small round plastic patio table – how has my mother allowed that to remain all of these years?
The bookshelves have had, with only a few exceptions, the same books for forty years – I don't know if he has read them. Two of them are mine – faux leather, two volumes of what was a failed attempt at building a personal library of classics: Shakespeare and Sherlock Holmes. The rest are a curious collection. I can only remember a few. A faded 1960's hardcover, The Death of a President, The Rubáiyát of Omar Khayyám, The Peter Principle, a collection of Ogden Nash verse. The more recent additions are a few volumes on the history of Vancouver, specifically told in the context of either a fishing vessel or a tug boat.
Where the room gets interesting is on the floor.
My father likes to place piles of papers, grouped by client, estate, charity, or personal project. Officially he retired in his sixties but it was only then that his true work began. He became an executor to a series of estates for friends and family. He was invited to become a board member in companies ranging from an international auction house to a real estate holding company that operates suburban shopping malls. Many had been his clients in his professional capacity as a Charted Accountant (CPA in America). He continued and in some cases expanded his role as a board member of various charities.
He wasn't one to get his hands dirty but made a lot happen. A friend of mine who is a social activist and has worked for many charity organizations affirmed how important people at that level were. Many ventures fail because of poor leaderships at the governance level. Passionate people and initiatives need the support of clear minded articulate thinkers like my father.
He parented the same way, literally didn't get his hands dirty – "never changed a diaper." my mother is known to recount. He was always calm and quiet with his three boys – able to solve a lot of problems with a rationale discussion, his pen or a phone call. I don't recall him ever disciplining me. There was a threat of a wooden spoon, I don't remember if it was ever used on me.
Through all stages of my life when I've made poor decisions or not fulfilled a responsibility to my parents, I felt his disappointment. That sinking feeling that vibrates before coalescing into a corrective action or a lesson learned. His participation in our lives was measured and constant. Sundays were a family day. I have a kinetic memory of him sitting next to me as I struggled to learn how to play the piano. Timing, at least transposing the songwriter's idea of timing onto a piece of music was never my strong point. He would bang the inside ridge of his index finger; the steady beat for which I was to count out the timing. The impact audible as a shallow drumbeat, vibrated through the curved wooden edge of the keyboard's lid. Eventually a wind-up metronome replaced his finger with a more mechanical click click click.  This impersonal device demanded less of my obedience. My struggle to become a musician didn't last much longer.
He was worldly, respected, well known, and a person acted differently towards me when they found out I was his son. Two of my best friends from High School went to work for him. It was a strange transition for them to switch from calling him Mr. Moul, something all children did in my day, to Ed, in deference to a more collaborative office culture. As Senior Partner, then Office Managing Partner they often expressed gratitude for his mentorship and respect for his leadership.
His father had been a foreman in a pulp mill. Air quality wasn't on anyone's mind in those days. He was also a smoker.  Two strikes were enough and he died of lung cancer at 73.
His mother passed away peacefully in the bliss of an afternoon nap when she was 80. My father did very well for himself from these modest beginnings and I continue to benefit from the lifestyle and resources that he accumulated.
In my dream, I am standing a midst the piles of his work. A brief glance identifies purpose of each pile. Then I hear my mothers voice from a call a few nights prior. "He's given up another estate and I wonder what the doctors will say about his driving." I'm not really listening but dwelling on the, "he's given up line.''
It plays around in my head. His Parkinson's is eroding both his memory and the ability to speak clearly—everything is being taken away from him.  And unlike me, when I drop a task or a project its normally because I need to replace it with something else—for him there is nothing else. I think about the choices I make everyday, giving things up, adjusting priorities, but it always shifting capacity from one task to another. It's not about giving up things just because, and certainly not to be replaced by something else.
I feel for his profound loss – he's never been idle a moment in his life. First his driving, and now, the routine and simple task of walking to the local post office.
In the dream I look again at the piles of paper and realize that they are changing. The top sheets, where once the name of a charity, a business, or a project was listed, the words were dissolving, the top sheet becoming a plain piece of paper. Like that memory card game where you try and remember the location of specific cards to make pairs.  I try point and remember what each pile had represented.
Will the memory loss numb him to what its like to stand in his empty office – in my dream it hurts so much as I look around, one of those piles used to have my name on it.