What's that smell? 
I'm confronted by a blank page and about to begin a ten minute writing practice when the retro nasal olfactory neurons fire. The smell makes me think of the odoriferous quality of pee after eating asparagus. And I wonder, as I have before-–what causes that? In the spirit of writing practice, I have to go with this.
(*See Post Script if you have either never eaten asparagus, or observed its effect).
It's not a scent normally associated with a busy café.
A couple has settled on a leather love seat a few feet away and are organizing their meal. One of them is eating a combination of cheese, spinach, and egg on an English muffin. The other has a quiche. The act of identifying the items has already begun to correct my sense perception but the question to my inquiring mind lingers – why does pee smell different after eating asparagus?
For those that don't know me, I typically don't let questions go un-answered. So what's different? It's obviously not the first time I have considered this question yet I haven't researched an answer. Why?
It's all a matter of time and place. Specifically the time that separates the stimulus (the smell), to having access to a mode of research (normally the internet).
I don't make it a habit of taking a computer, or even my Kindle Fire with me to the bathroom. Understandably this is where the smell arises and with it the question (again and again).
Despite being intent and re-invigorated to find an answer I never remember to. It's as if the meditative act of washing hands clears the mind, and the question is forgotten. Until?  Well, you get the point. Let it be known that asparagus is a very common vegetable in my kitchen.
This absence of portable technology next to my toilet isn't to deny the need or importance for bathroom reading. The slippery porcelain lid of my toilet tank is oft dusted by magazine newsprint, coiled with the cover folded under to mark my progress.  I even use little post-it tabs to mark my place.
For about two years, these have alternated between back issues of The New Yorker and Rolling Stone.
Why these two publications?
About six years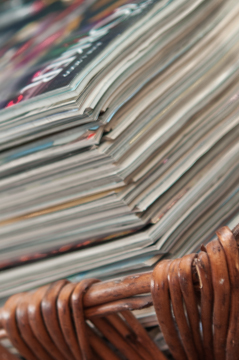 ago, Natalie Goldberg (writing mentor, and often the subject of my camera http://nataliegoldberg.com ) kindly offered to read some of my prose. Without the least compunction – a piece was returned with a large X in the middle of a page where she wrote in green ink, 'Bullshit'.
I was momentarily shocked but genuinely thankful for some honest feedback. All too often, first readers are culled from family and friends who are compelled to provide favorable, softened, and encouraging criticism.  Not very useful, at least not at my stage where I need to polish and finish drafts.
Natalie followed this up by telling me that fiction wasn't her forte. In that same conversation she referred me to her friend, and an acquaintance of mine, Rob Wilder (Daddy Needs a Drink, Tales from the Teacher's Lounge) who she explained is much more talented at explaining why?.. It's Bullshit.  I can't remember if she actually repeated that word, but a second opinion would be forthcoming.
She also suggested that I subscribe to The New Yorker Magazine and read their fiction selections to get examples of writing with a strong or unique voice.
As any dutiful student would do –I found a very inexpensive introductory two year offer.
I have a strict policy about magazine subscriptions. If I am more than two full issues behind, I am not allowed to renew. The New Yorker began to arrive with alarming regularity, a staggering 47 issues per year.
I think I made it through about four copies before the stack began to grow more rapidly than I could consume the issues. A magazine is considered finished when I have reviewed each article to the point where I know the basic topic or thesis and make an educated choice if I will read it.
Admittedly political and sports articles are not engaging and quickly dismissed.
The arts, social commentary, music reviews, single pane comics, and the fiction section were of great interest. Consuming these first four issues was at the expense of my other reading. When I began to balance my reading by returning to novels, writing, and photography magazines, the pile grew more quickly.
As I retrieved them from the mailbox I would stop and consider the quirky covers before stacking them in reverse date order in a wide low brim basket next to my ostentatious Oxford inspired blue, green, and red striped wing-back chair.
If anyone needs to know, based on the soft and slippery finish – anything over fifty issues becomes unstable.  Mid-way through the flood of New Yorkers, I inadvertently triggered a free one-year subscription to Rolling Stone magazine. More to read and the pile rose even faster.
As previously written in other entries, I have a love of music and used to be an avid fan of Rolling Stone. Somewhere in the crawl space beneath my parents' home is a box of relevant/select back issues. If laid them out, the origins of the magazine would be seen in the different formats, from a thick wedge of folded newsprint though different sized formats from the 60s and 70's. I was curious to know the magazine again but it would be slow going.
For the architects among my readers, it may or may not be a surprise that the tower of New Yorkers became more stable with two slightly different sized magazines.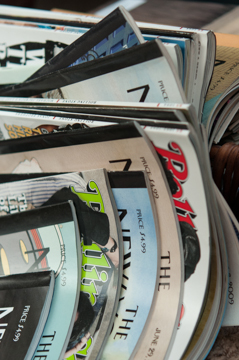 I needed a system to begin consuming these back issues.
Bathroom reading was the solution. Now this raises another issues that will only be lightly touched on – as a guy, would I be willing to sit down to pee to expedite the consumption of these magazines.  Of course! A writer reads – under all circumstances.
By the time I got around to this plan the magazines were over three years old. There is an interesting side effect, a déjà vu of reading old 'current-affairs' magazines. Out of context the breaking news is past history and the accuracy of predictions known.
I read with curiosity how disrespectful Rolling Stone could be about Michael Jackson's 'weirdness'. At the time they weren't speaking about the dead. The growth of the Kindle and e-books, the release of the i-phone and i-pad, all prompted much speculation, prediction, and denial, about the impact the devices will have on traditional publishing.
If nothing else it made me feel much more informed than I probably am.
And as to the original reason for subscribing, The New Yorker fiction section has been a rewarding study.
I should establish that I don't see the word 'genre' as being a negative term nor do I join the debate on the social hierarchy and therefore the value or importance of all things literary. They all have a place in my reading world.
I will say, that the trend (at least in the editorial choices of the New Yorker) to select fiction with abrupt endings is personally unsatisfying.
I'm not looking for happily-ever-after, but I do believe that a strong piece of writing begins at a moment of change or conflict and requires some form of change in the character or the resolution revealed to a problem or riddle.
From the pages of the New Yorker I read (and re-read) many brilliant scenes, savoring the imagery and the use of language. At the end, I would often flip back and forth from beginning to end to understand where a story had taken me.  In many cases it was subtle and an imperceptible nod on my head would be witnessed by the sole light bulb or toilet paper roll. Many of the stories though, just end with a door closing, a person walking away, or a meal finished.
I may recant the following assertion as I grow and develop as a writer, but for today, as a reader; it isn't my job to wonder why this snapshot of time was selected. At least, not on the occasion of when I've been invited to read a story. If it's about the acuity of the writer to bring a world to life then let's not call it a story but a literary photograph.
The beautiful language, clever analogy, and descriptions are akin the special effects that wow you at a movie. If you're wondering how 'they did that', then your removed from the story.
As I write this, I feel a growing sense of unease that my definition of story is too narrow. In a conciliatory moment I will accept that these pursuits have their value and perhaps that's the point. Even from a perch on the porcelain throne, reading these pieces suspends my life and replaces it with a glimpse of something unique. As my mind connects with the writer's mind I am transported and become a tourist in a scene. The story then becomes my own and in a most subtle way, I'm the character that changes.
And what about research into the cause of asparagus scented pee?
The next few moments are crucial. When the wide trails of ink fade to dry I will close this notebook. The cap on this fountain pen screws tight instead of with a closing click. Both have their assigned spots in my green canvas messenger bag.  There are two over sized plastic clips that secure the flap. The shoulder strap is always twisted and requires straightening before I walk from away from this writing practice.  Will the asparagus question still be on my mind?
Alas, similar to the fumbling bathroom ablutions, I forget to conduct the research.  Until the next time, when I open the pages of a New Yorker, especially an hour or so after dinner where those graceful spears were on the menu.
PS
Let it be known that unlike going to the bathroom or doing writing practice, the act of typing up and editing a blog puts impulse and technology together to at last read about this fascinating topic.
According to some research – only about 50% of the population will know about what I am writing about. And of the 50%, there are some that don't know because even if they produce the unique odor I write about, they genetically can't smell it….