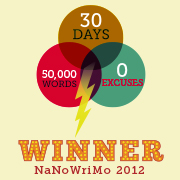 My fourth year completing NaNoWrimo. All the earlier lessons apply (See previous blog posts).
This year I kept telling myself to push against comfort zones. There was security in knowing that nobody else will ever read such a loose first draft. It gave me the permission to explore.
Much of what I wrote may become reference material and back story. The final product will be better for having explored those area.
Now it's time to let it rest and get back to the fifth draft of Lander's Gate.
KSM