I am sitting alone. Not just at a table by myself but completely alone at Matadors, an independent coffee house in North Phoenix.
It's a Wednesday night between 7:00 – 8:00pm. A bluenote era jazz station plays on Sirius. Overhead a commercial air handler squeals briefly when triggered to deal with the seeping warmth of the Phoenix night. A rush of cool air then with a bump it will shut off and the cycle will repeat. A refrigerator hums in the servery. There are no hushed voices from other tables or the sharp double crack of the barista clearing the espresso filter. Even the two staff members are absent.
Absent, but not far away. They sit together on the otherwise empty strip of sidewalk that doubles as a patio. The dark haired girl has just joined her lig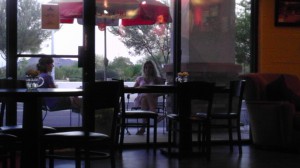 ht brown/blonde associate. She places a B&B plate with a two halves of a burrito on the table and adjusts the chair. Though I can't hear it, my mind becomes a foley artist (the people that add common sounds to movies, ie: the crunch of feet on gravel, or a squeak of an old door) and I am able to imagine the thin metal chair vibrate as it's dragged across the coarse surface.
The blonde draws a deep inhale, rushing to finish her cigarette before the other begins to eat. They settle into a conversation. Her now idle cigarette hand absently thumbs through the pages of a thin orange Vonnegut volume. She had been reading from it and writing in a small notebook since I arrived ten minutes earlier. I wonder if she's a student with required reading, or seeking inspiration in Vonnegut's writing. Does she welcome the company at her table? Or was she not quite ready to separate from the prose or the physical connection that inspires her to commit thoughts in wide cursive loops to her notebook.
These are the stories and questions that play out in front of me in coffee houses. Readers, writers (especially with pen and notebook), students, and dynamic staff members all inspire my writing. Nobody else to feed the muse on this night.
I am also overly sensitive to scenes such as this but from a different angle. I pursue my writing whenever possible in Cafes. Given the choice I will support local, independent businesses. Up until a week ago I had two great choices near my home. Routine is a fundamental component of my writing. One night a week (at least) and Saturday mornings I settle at the same table at Matadors. Sunday mornings were always savored at Press Coffee Roasters at City North.
Two weeks ago, as I pulled up to Press I was immediately aware that something was wrong. Even before I noticed all the patio furniture was gone, there were boxes lined up along the windows instead of the usual tables. The business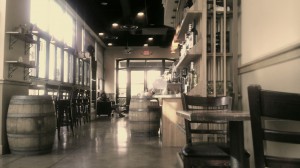 was shuttered.
It didn't surprise me. For the last two and a half years that I had been a customer it was never busy. The City North complex was intended to be a sprawling destination of offices, restaurants, retail, and residences. All were to have been anchored by two major department stores. The economic crisis of the last few years left it crippled. A few restaurants had survived. The condos above the single street appeared occupied. All of the retail failed and the department stores were never built. You don't have to be in the business to know that a coffee house needs high traffic to survive.
As a writer, Press Coffee was busy enough to be interesting, but not too overwhelming. There were many regulars with whom I could nod my head in vague association. In particular I enjoyed seeing two other writers that met each Sunday to discuss their writing projects. It's May, the Phoenix snowbirds are gone, we are heading into the hot slow season. More than this business could handle.
In a facebook farewell, I used the word 'forlorn' to describe my mood on that Sunday morning. On a selfish level I was being wrenched from my comfort zone. For my purposes Press was a great location. A big work table and access to power for my computer. There was a great patio that allowed dogs. Close to my home and on any given day the patrons represented an interesting mix of ages and purposes. And most important, a friendly acknowledging staff.
My Sunday routine was now derailed. Where would I write? I didn't want to drive too far. There is no shortage of Starbucks but they are just too busy (and the tables too small). My preferred décor, demographic, layout have been mentioned in previous blog posts. I'm quite particular and to the benefit of the operation when I find what I want – loyal.
Matadors isn't making any money tonight.
With no customers, what is the staff to do? I don't begrudge them the opportunity to leave their stations and relax. The floor is swept, the tables are tidy. I don't need to be babysat. It's a reverse type of customer recognition – they know I will be okay with this. Or at least, they can trust me not to ransack the place.
Periodically they both look through the window towards me. Do they think it odd that I am sitting all alone? Two loan .25 cent coins in the tip jar. Can they survive without the personal income?
Next Sunday I will continue my search for a new writing corner. Ten miles to the north, The Cave Creek Coffee Company is an option. A little closer I been told of a place called Roots. An appropriate name at least. I will explore.
And to the owners of Matadors, hang in there. Our neighborhood needs its independent coffee houses. If only the people would come! Your staff can then appreciate a 'break' for what it is meant to be, not an escape from an empty room.
But it's not an empty room. They're always that guy sitting alone. Get to know me, I'm a regular.