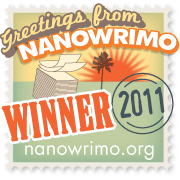 My third successful year in NaNoWriMo
(National Novel Writing Month)
The lessons learned that I wrote about last year  all still apply.
There is a great sense of accomplishement having another first draft of a novel to 'someday' edit for public consumption.
There were many days where I wanted to sit down and get back to the novel to see what happens next. I think for writers, sometime the role isn't that much different than being a reader. We crave the story and connect with the characters and are often surprised at what happens next.
A writer writes!….and that's what I did.
Rowan's Branch, a novel by Kevin S. Moul