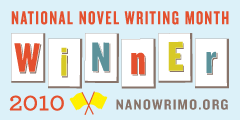 November has become an interesting month for this writer.
For a second year I participated in NaNoWriMo(National Novel Writing Month)  This competition (which is really just with yourself) is to write a 50,000 word short novel from November 1st to November 30th.
In 2010 –  2,872,682,109 words were written by all participants.  In 2009 32,178 people finished (I can't find the 2010 statistic)
I am hesitant to assign the tag 'novel' to what is really a thirty day 'free form' writing practice that results in a 'wild-mind' first draft. It is not to be dismissed either, at least a first draft can edited, a blank page says nothing. Writers write…and this is exactly what participants are doing.
Completing 50,000 words is an accomplishment worth celebrating – and it is not just the completed first draft. Here are a few of the other lessons learned.
1) I can write anywhere, the conditions do not have to be perfect (at a tidy desk, in an atmospheric cafe, etc).
2) Stolen moments can be productive. It does not have to be large block of time. Only have fifteen minutes?….another 250 words can be added. It also keeps the ideas churning, many new and interesting plot points came out of these fifteen minute 'bursts'.
I make a vow to never say that "I don't have time." Instead I may say that I am choosing to <<insert any pressing activity>> and I will make up the time <<insert a new time>>". It is a subtle difference but it has a more positive feel and empowers oneself that they are actually making decisions instead of being buffeted by circumstance. Family, work, other commitments will naturally compete for your time. It's having a back-up plan and when watching television or playing on-line games, etc, present themselves, you 'choose' to write. When November is done, this is a great habit to maintain your momentum. 
As writing is not my day job, I used weekends to play catch up and a few well placed days off mid month kept me on target. As can be seen in the graph, I settled into a routine towards the end. There was a buoyancy in the final two weeks when I found my stride and the stress was replaced by the feeling 'I'm going to make it'.
My typical day was up early enough to write for an hour and a half before work. A cup of tea, computer primed the night before and left in stand-by mode, no clutter in the immediate vicinity. No checking emails, Facebook, or Twitter.
Another hour was required each night. Thankfully many nights I was able to devote larger chunks of time.  Did I miss some days? Of Course. The NaNoWriMo web site offers each registered author precise metrics to keep track of their progress.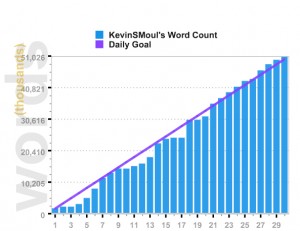 3) Don't Edit, don't go back. Forward is the only direction that matters. At the end of my writing sessions I would try and break off before the end of an important scene. It is easier to pick up this thread and gain momentum than to start cold every day on a new chapter or scene.
Prior to starting, I would read the previous 200-300 words to get back into the story.
Want to make a continuity change? Make a note to yourself for the next draft and carry on.
4) Using a 'Writing' program can help keep track of characters, timelines, and POV shifts. Just make sure you spend the time learning how to use it well in advance of the November 1st start date.  I used Writer's Cafe and was pleased with how it kept me organized. It's strength is the storylines timeline that allows you to re-arrange index cards, by point-of-view , one card per scene, then these cards can be further set into chapters.  In the example below, my two main characters are Matthew and Matt. Within the structure of this piece, I switch point of view characters mid chapter (see synopsis below for more on why)

Screenshot from Storylines, a component of Writer's Cafe
5) Plan ahead. I am not an outliner but I did benefit from the instruction of New York Times bestselling author Michael A. Stackpole. Prior to November 1st I spent time developing detailed character profiles. The story then grew from these collected thoughts.
6) Celebrate your progress with a writing group. I am fortunate to have a dynamic group of people that also competed. My thanks to the The Quillians. Don't tackle it on your own.  Don't have a group? NaNoWriMo offer regional groups in most areas of North America.
And after? Now comes the real work, taking my 52,000 words, expanding and creating a second draft that can be shared, a third draft that can be fine tuned, a fourth draft that can be re-written….. Here is a synopsis of my latest Novel: Mexican Film
Most people, at one time or another, wish they could be in two places at once. Mathew wakes up one day to find it has really happened.

An homage to the folk magic in Mexican films, a novel based in today's world in the tradition of magical realism. Mathew's double heads out on the 'path not taken'.

The symbiotic relationship is at first is exhilarating as the two characters share experiences and knowledge. It is only when the two worlds bump up against each other that Mathew must find the Crone who cast the spell and merge the two persona's back into one. Meanwhile his double begins wondering how he can make it permanent.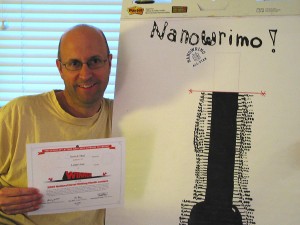 Just in case the  NaNoWriMo progress stats from the webs site are not enough, my daughter tracks my progress on a giant flip chart pad. This image is from completing the 2009 challenge.