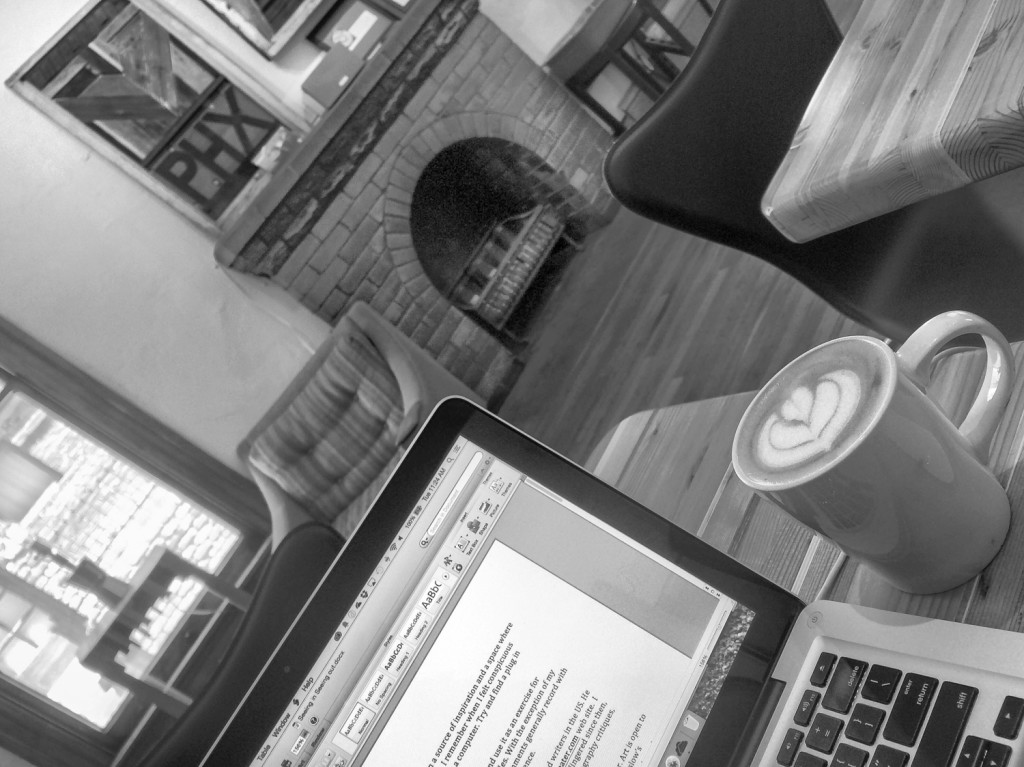 Independent coffee houses have long been a source of inspiration and a space where I submerge myself into the craft of writing.  How long? I remember when I felt conspicuous being one of the first people to be alone with a computer. Try and find a plug in those days. Wifi was just a Sci Fi suggestion at the end of a dial up connection.
In the café conversation series I observe people and use it as an exercise for practicing description and building character profiles. With the exception of my observations on Borders as they went under, my comments generally record with imagination but without much editorial, what I experience.
Recently I spent time with Bill Addison, one of the top food writers in the US. He currently is the restaurant reviewer for the massive www.eater.com web site.  I spent two days watching him ply his craft. The question has lingered since then, could I write a restaurant review? I've written book and photography critiques, would it be so much different?
In a review of art I always have a sense that there is no wrong answer. Art is open to interpretation. My opinion is just as valid as yours. With restaurants there is a foundation, like Maslow's hierarchy of needs that must be met: Wholesome ingredients, correct temperature etc. Once these are achieved, the more subjective evaluation of taste, texture, etc. can begin.
Art may have a gallery or even how its framed. A book has its cover. A Cafe frames the food and beverage with the atmosphere and of course, the level of service.
Service delivery is a specific area of personal interest. For all my love of coffee houses, I'm not much of a coffee drinker and am willing to tolerate poorly prepared tea for the sake of the location. The environment fundamentally includes the staff and how they interact with the guests.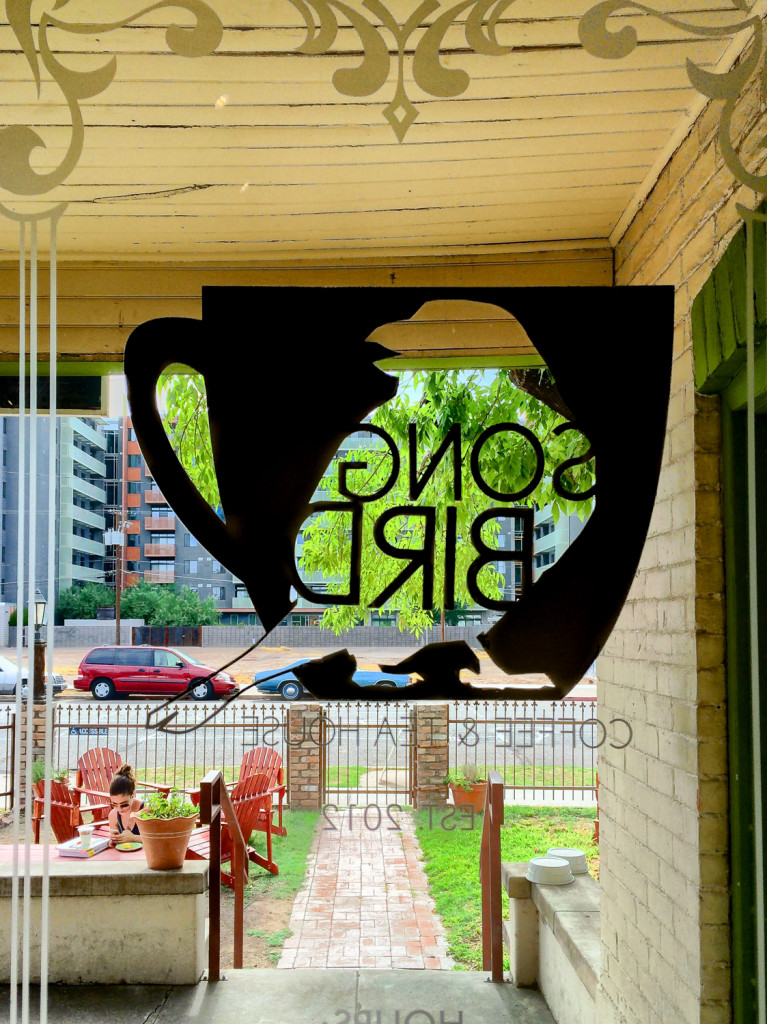 On a recent visit, my first to the new location Songbird Coffee & Tea House,  my writing practice began with a description of the room then shifted into a personal discussion of how I'd been let down at two coffee houses where I truly wanted to be content. I am not typically one to complain, but obviously the suppressed disappointment sought to surface in my writing
The writing practice began this way.
~~~
The filaments of the Edison bulb that is mounted on a stove top espresso maker vibrates slightly as a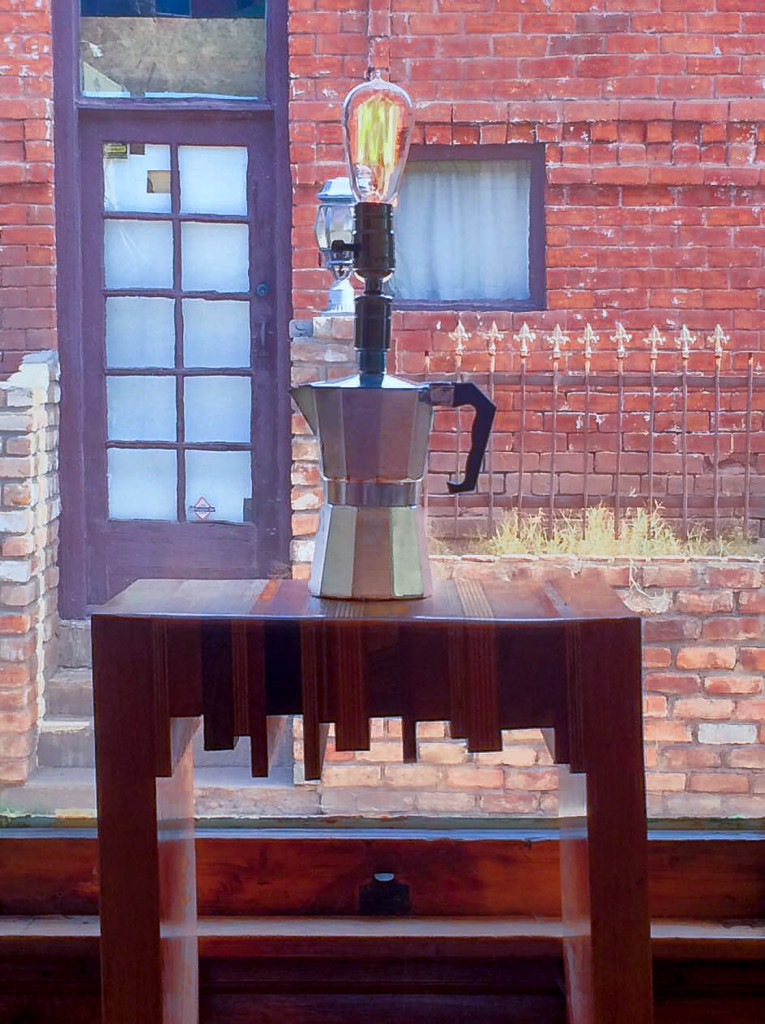 man steps heavily past. His cowboy boots scuff slightly between the solid footfalls.
This improvised lamp has been placed in the center of a square side table that may have been designed equally as a bar stool.  A rippled antique windowpane frames this still life; the backdrop a watery filter of the view, across what was once a driveway, to an even older brick façade.
Photographically, the scene is 'hot' with the morning light overexposing the bricks and missing mortar. People flit past as the Songbird Café begins to draw its regulars.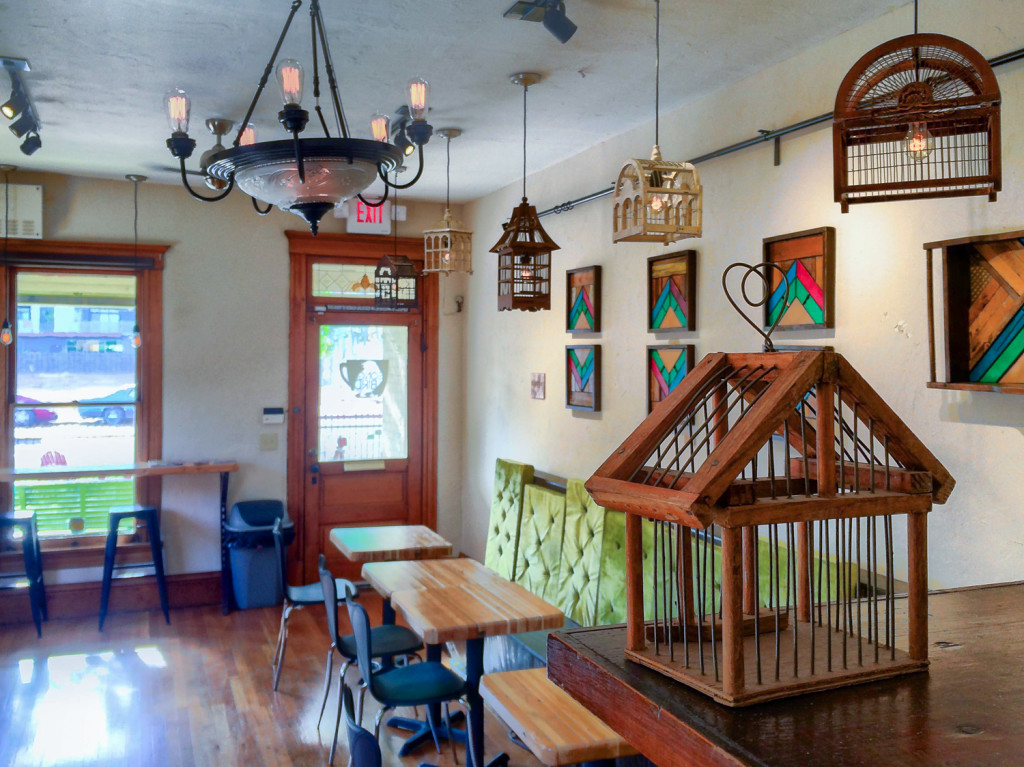 I do not count myself in this circle of regulars, as this is my first visit to the new location. Up until recently Songbird was located a few blocks away on the much busier Roosevelt Ave. The new cafe boasts a shabby vintage look in an ancient (at least by Phoenix standards) house. There is increased seating and outdoor space that will come into its own in a few months when the cooler weather arrives.
This is not meant as a review of Songbird, but this piece is emerging as a Phoenix Coffee House update.
It's no secret that one of my top five simple pleasures is hanging out in independent coffee houses. I am not a Starbucks 'basher' having enjoyed many hours and excellent service in their locations worldwide. But when there's a choice, I will always lean towards supporting the small operator. The caveat, I have very high expectations: I want the environment to be comfortable and unique, for 'dining-in', real mugs for the hot beverages, glassware for cold is a bonus, the crowd diverse, and as a writer I need access to power and stable wi-fi.
Why have I drifted so far from the locations near my home? A spirit of adventure but also a desire to try somewhere new. Some of my local choices have lost their luster.
Union 32 (formerly Matador) was a favorite for years. I was willing to suffer through the lack of power outlets in exchange for the friendly and engaging barista's that always greeted me by name. A change in ownership and the attrition of the familiar baristas, including the fabulous Nikki, saw all that I enjoyed begin to slip.
The new owner has seen me dozens of times but has never once greeted me by name. On my last visit the seating area was a mess, the bathrooms poorly stocked, and the owner disengaged from seeing any of it or me.
I will still go there and am grateful for the writing events he stays open for, but as hinted above, it no longer draws me to its tables.
In the opposite direction is Saddlecreek Coffee. It is on my commute to the day job and often I will leave early on workday to stop and start my day with writing. The owner connected with me on an early visit and never fails to greet me by name. My challenge at his location, the eastern exposure. Even with window screens, the window tables are too bright for most of my morning writing hours.
I've written before about Press Coffee Roasters and am grateful that they survived City North to prosper at the Scottsdale Quarter. At least twice a month I settle beneath Carl Schultz's fabulous photos, Steve and Jimmy always stop to chat. On weekdays, Carrie engages with the regulars of which I am fortunate to be treated as one.
Living in Suburbia requires an exit from the bubble of daily life to experience more choices. On the days where my schedule is more spacious, I head south. My second tier of favorites includes the wonderful cacophony that is Lux Central, the urban austerity of Fair Trade Coffee, and the previous location for Songbird.
Recently there was another nominee for this list. Unfortunately, Changing Hands Bookstore, First Draft Bar and Coffee Phoenix location, now a year old, has failed to connect with me.
In addition to independent coffee houses, independent bookstores are another favorite. I am not a huge consumer of printed books anymore therefore I look to support their other revenue streams. On this day, I ventured back for what was to be a second try at Changing Hands.
First impression? I was disappointed that having been open a year that they still had not outfit their café (that also doubles as performance space) with comfortable or attractive seating. A few random tables barely fill the area and no care had been taken to reorganize the seating from whatever had been the previous night's activity.
The barista greeted me with a friendly smile and took my beverage order. As I waited, my eye scanned a row of glass covered pastry displays on cake risers. These were easily within reach, set in a row on the top of the counter in front of the bar stools.
I pointed to a muffin and commented that, "I would also have one of those." As I simultaneously reached to lift the cover and extract a selection, another staff member who had been busy at paperwork snapped at me "You're not allowed to do that." She continued to tell me that "it was a violation of Maricopa health code, it was a display, and the staff needed to serve me."
Momentarily stunned, I wondered if I should debate the topic with her. I had actually been thinking how fragile the glass tops were and if this was my café, I wouldn't risk them being dropped or chipped. The question now rose, why were they within reach? Why wasn't there a sign that they would be pleased to serve?
I had been scolded, reprimanded and a response was required. I succinctly commented "I had no way of knowing," took my muffin and my coffee and went to my table. I didn't stay any longer than it took to eat the muffin and drink the Chai.
The entire situation could have been diffused with a gentle coaching. It thrust me back into the day job mode where 'customer service' is all that matters. The 'transaction' can't be more important than the 'connection' between server and guest. Like the watery filter of the old glass across from me, this employee couldn't see me as a guest with a need for comfort and acceptance, but simply as someone breaking the poorly communicated rules.
On that day, my frame of mind was altered; I needed time and space to re-wire my brain for writing. Thankfully, Lux was around the corner.
I have no intention of returning to Changing Hands except for special events or perhaps to buy a book. Have I said it already? With so many choices, I would rather explore.
And there I was, on a recent day off, ready to explore, I was drawn to "Phoenix New Times" Lists the '10 Best Phoenix Coffee Houses'. Was there anything new?  The Songbrid change of address caught my eye and prompted a 'road trip'.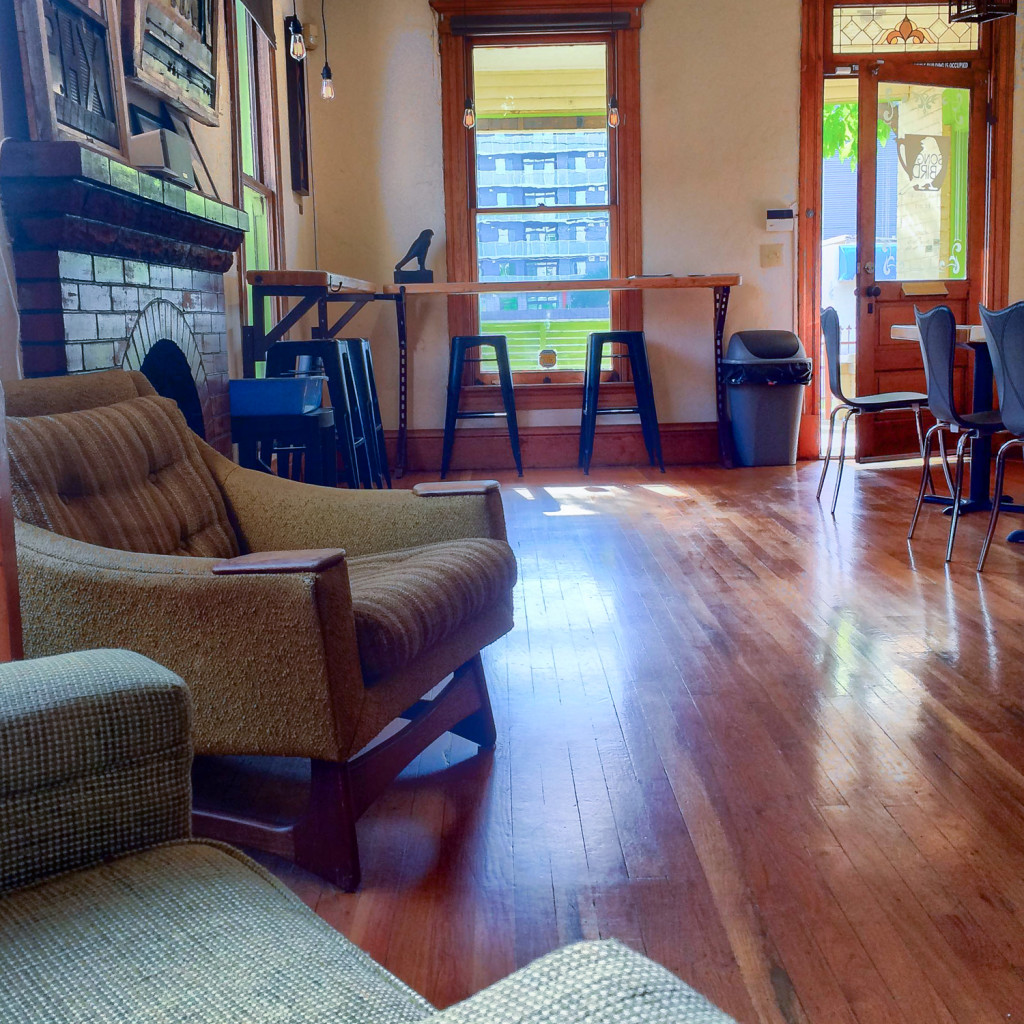 Songbird passed the first tests. An engaging environment, diverse demographic of guests, and a power strip below the seating. Michelle the barista was welcoming and they serve one of my favorites, the Maya Chai. They have a good selection of loose leaf teas but most of the guests have been drinking a nitrogen infused cold brew that I tried on my second visit.
Thanks to a short local vacation, I was able to come back twice in the period of a few days. The experience was repeated a week later as I gently 'pretended' to be a regular. Living so far away, this will have to be a special trip with expectations of an experience.
If you see me coming, remember to 'see me' as a guest who has chosen you, even if I am a bit blurred by the ancient glass that frames the world beyond, the world where people like me will come to your space and you can survive as a business.
One two of those three days, as I departed Songbird, the door closing behind me, Michelle called out to me by name, wishing me a great afternoon.
Impressive!